Originally published on November 23, 2017
Be prepared. In less than two hours, I'll show you how to arrange your closet! Why? Because you need a neatly arranged closet if you want to keep your sanity. You will save a lot of time and money with a well-organized closet. How? Well, you save time when you can quickly and simply find what you're looking for. Additionally, you save money since you cease feeling like you have nothing to wear once you can see all of the clothes you own and get rid of anything you don't wear. As a result, you will spend less on clothing. Additionally, if you take the effort to fold and hang your clothes in a well-organized closet, they will last longer and help you save even more money!
All you need to do is set aside some time to organize your closet. You'll need a few hours to finish this step-by-step closet organization tutorial, but you'll end up saving a ton of time in the end, pinky swear! For your convenience, this article includes some affiliate links. To view my complete disclosure policy, click here.
I STRONGLY advise that you buy matching wood hangers for your closet before you start. All of ours were acquired from Ikea many years ago. Ikea has wonderful wood hangers at a terrific price; believe me, I looked everywhere for the greatest bargain, and Ikea got it! If there isn't an Ikea nearby, use there are lots of affordable wood hangers on Amazon as well .
Okay, let me show you how our closet looked BEFORE we started organizing it before I show you how to do the same. Yikes.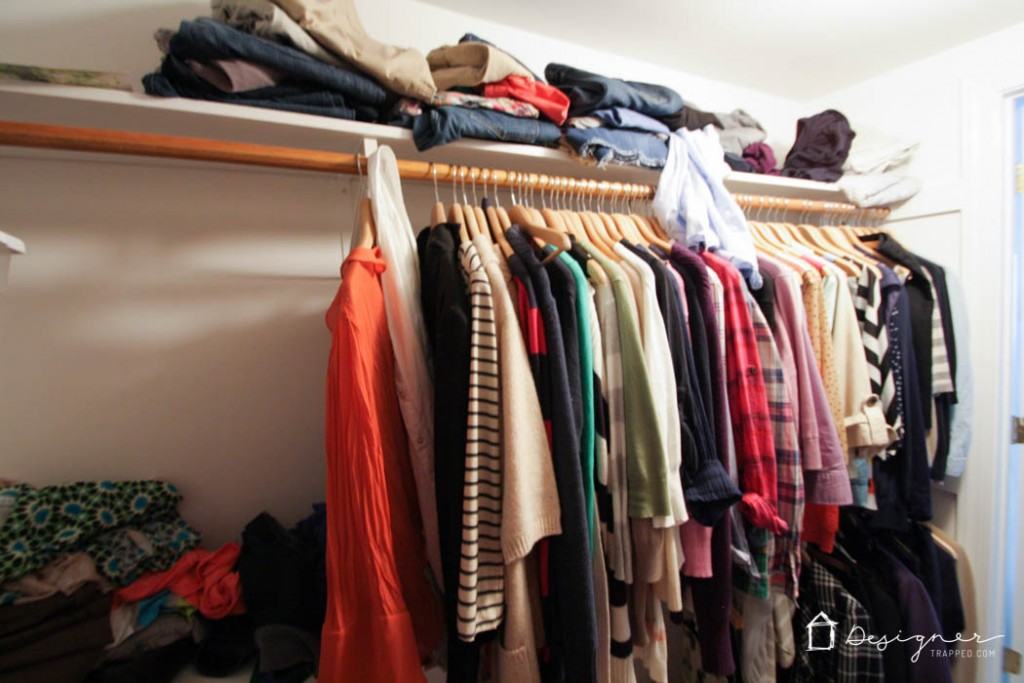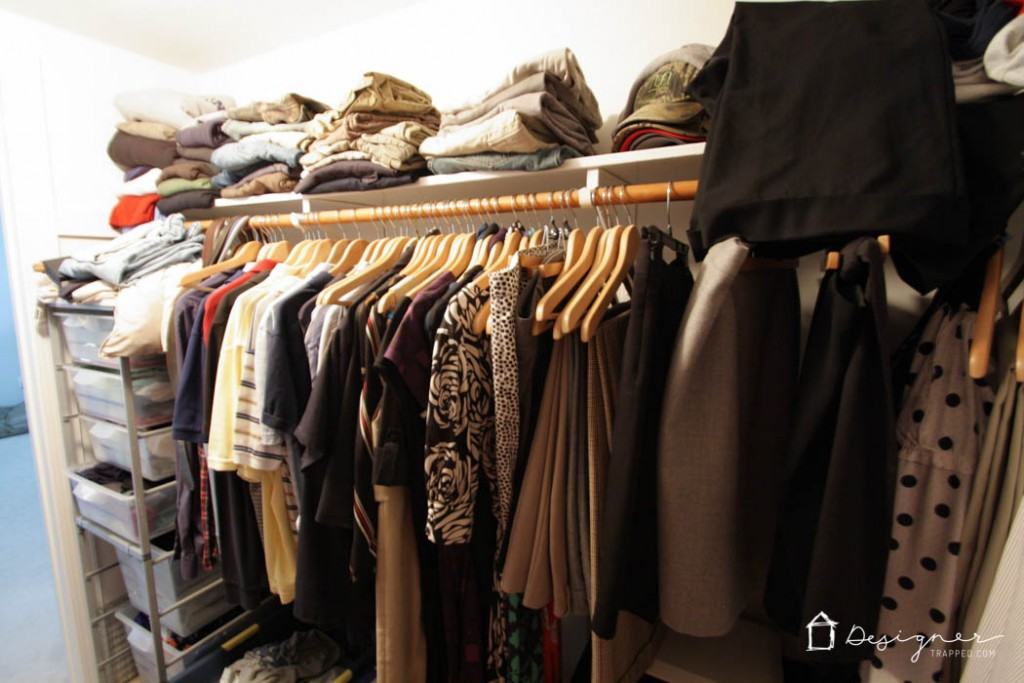 HOW TO SET UP YOUR CLOETS 1) Take everything out of your closet. boxes, hangers, hangers, and clothing. Everything. This action is essential. Select a location for all of your closet's items. Your bed or floor — or both — can be the culprit! In actuality, we occupied virtually the entire floor of our bedroom in addition to our bed:)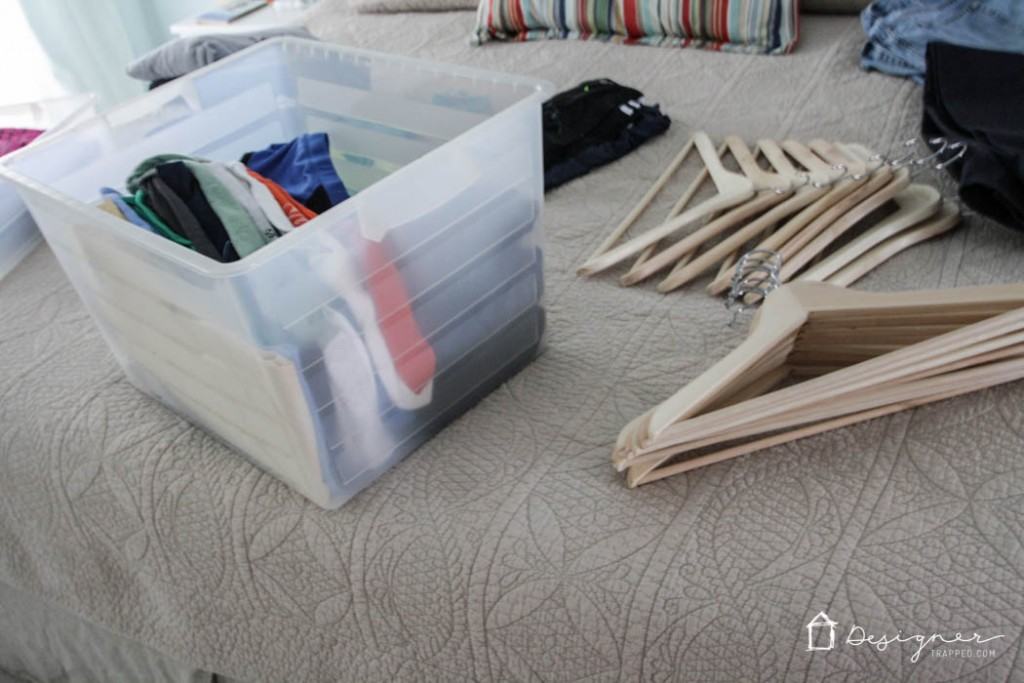 2) Put anything out of place in your closet back where it belongs. No, I'm not speaking from personal experience or anything, but there is no excuse to keep old electronics boxes in your closet.
3) Selecting what to keep and what to discard is now necessary. The quantity of goods in your closet should be reduced. First, take a brief glance at everything you have. Decide what to keep or discard swiftly on this initial pass. Simple steppiles on the floor or a bed will serve; you don't need anything fancy! ALL stuff that you won't be retaining should be thrown away or donated. Clothes may be VERY difficult to part with, especially if you spent a lot of money on them. The fact remains, nevertheless, that keeping unnecessary amounts of material causes stress. Even if your closet contains only 30 items of clothing, you should adore every item in it. So, while you go through your possessions, adhere to the following purging rules:
Identify any damaged or missing buttons or holes in the item. Determine right away whether such products are worth restoring. If so, fix it or get it fixed within the next week. Otherwise, throw it away. Get rid of anything you haven't worn in the last 12 months. Period. Donate it or sell it if it doesn't fit and hasn't in a year. Only keep on to clothing that are too small if you are less than a month away from your ideal weight if you want to lose weight to fit into them (haven't we all said that at least once?). Accept that you might need to spend money on new clothing when you accomplish your target if you still have 30 pounds to lose. Most likely, the fashions will have changed, and you'll want to treat yourself to a few fresh outfits. Choose your top one or two favorites among numerous products that are VERY similar to one another, such as six gray sweaters, and donate or sell the others. 4) After deciding which items to keep, arrange them neatly in your closet. Stack similar objects together. Within those groupings, you can organize by color if you feel like an organizational ninja. Consider buying a movable closet to store out-of-season items if your closet is small, as we had in every home prior to our present one, or use under-the-bed sliding bins if your closet is small.
5) To increase your closet's storage, think about adding some baskets, bins, or even an extra rod.
6) Create a method for maintaining a clean and orderly closet. Make a commitment to folding and hanging your clothes again each day. And before putting a new item in your closet after a purchase, take the time to see if there is anything you can get go of. One-in-one-out is an excellent rule to abide by!
In less than two hours, our closet looked like this. Best time investment EVER! We ended up donating a number of large bags of clothing, which is always satisfying. And it's a wonderful feeling to enter a well organized closet each morning.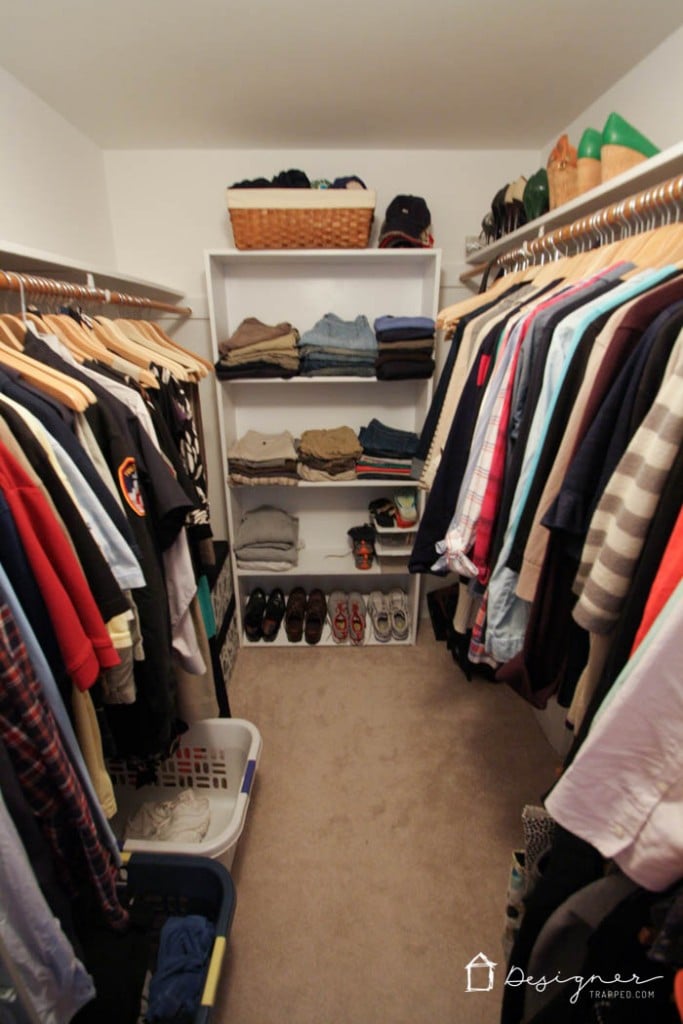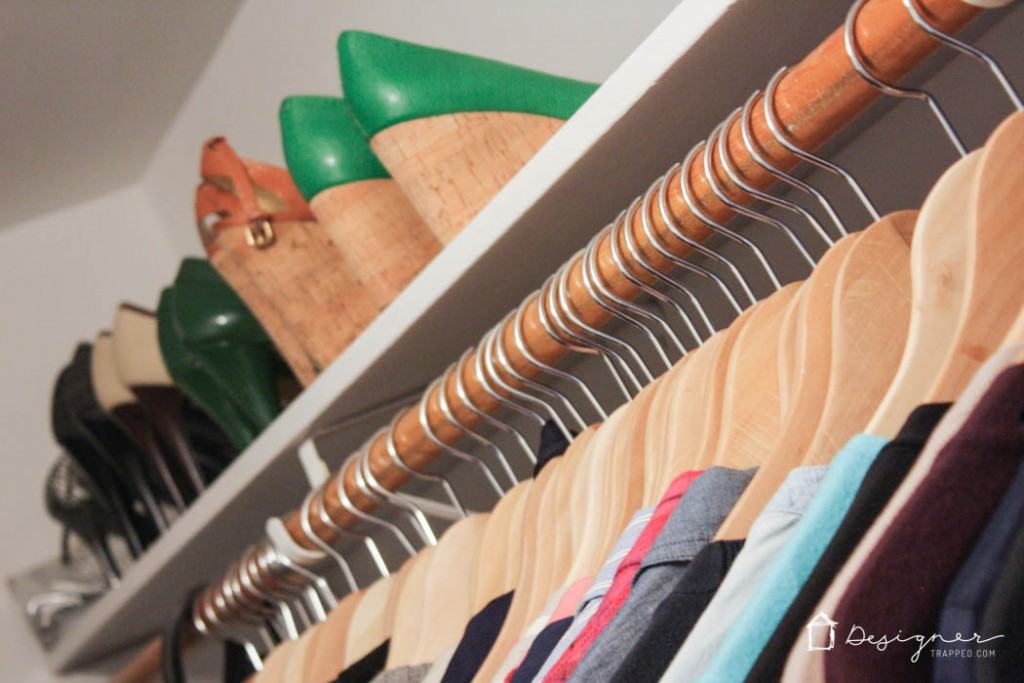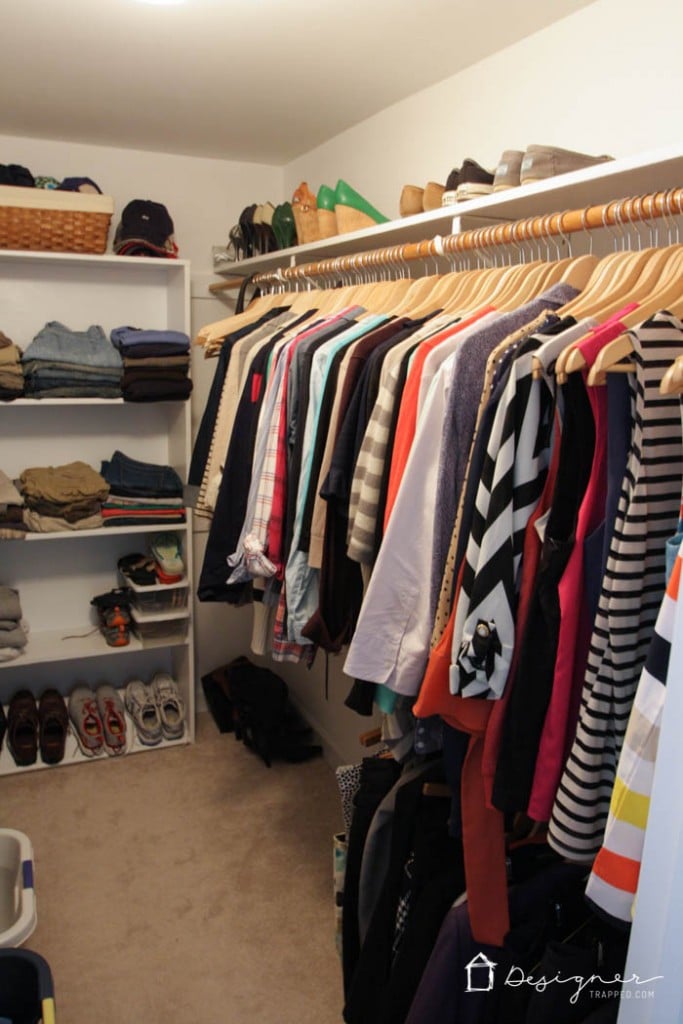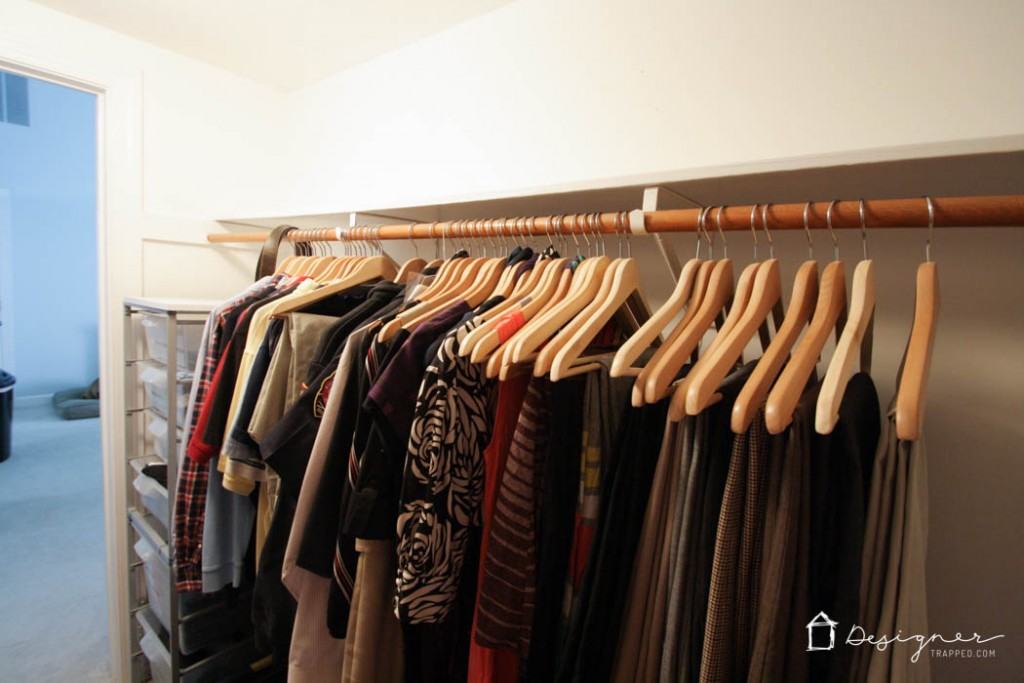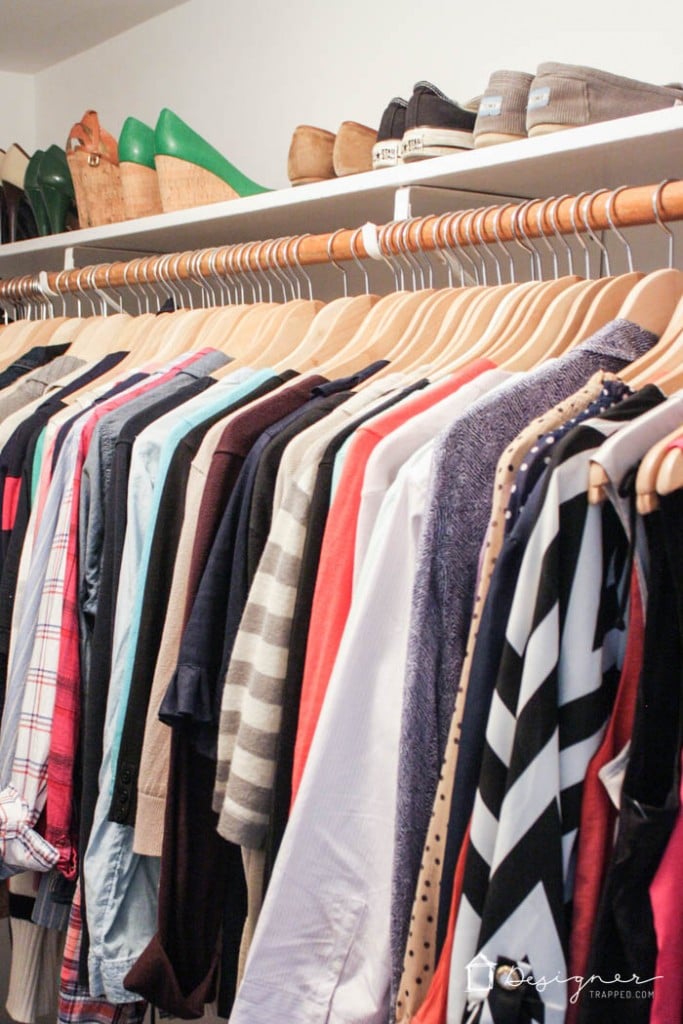 Why are you holding out? Get your closet in order now! And do let me know if you have any closet organization advice that I should include on the list.
Additionally, remember to pin this post if you want to come back to it later!
0
1