This sweet treat with buttery flavor will quickly become a household custom. Try this delicious poached pear and brown butter cake. Your mouth will water at the flavors!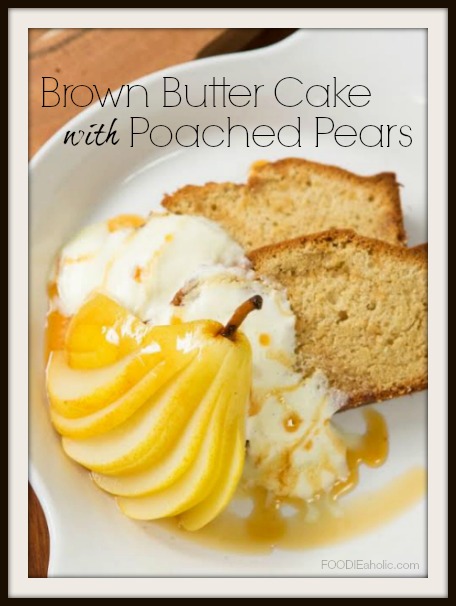 PEAR-POACHED BROWN BUTTER CAKE The author of Brown Butter Cake is Foodieaholic. Ingredients: 5 Servings 2 14-stick packages of salted butter Sifted cake flour, 2 cups (not self-rising; sift before measuring) one tablespoon of baking powder Salt, 12 teaspoons 12 cups of light brown sugar in bags 12 cups of sugar, granulated Four big eggs Pure vanilla extract, 12 teaspoons Instructions Center the oven rack and preheat the oven to 325°F. An 8 1/2 by 4 1/2-inch loaf pan should be buttered and lightly floured. A 10-inch heavy skillet with butter should be heated over medium heat until it starts to foam. At that point, reduce the heat to low. When the milk solids turn a deep brown in color, this will help regulate the browning process. Transfer to a shallow basin and refrigerate in the freezer for 10 minutes, or until barely cool. Salt, baking powder, and flour are combined in a whisk. Using an electric mixer, combine the sugars and cooled brown butter and beat until frothy, about 2 minutes. One at a time, add eggs; after each addition, stir thoroughly. Combine vanilla. Add flour mixture and blend on low speed until barely combined. Smooth the top of the batter as you transfer it to the pan, then place the pan on the counter to help the batter settle. Bake for 60 to 75 minutes, or until golden brown and a wooden pick inserted into the center comes out clean. Cake should cool in the pan for 30 minutes before being turned upside down and allowed to cool for an additional hour. Pârées Poached Dessert-related recipes from Foodieaholic Ingredients: 5 Servings 1 cup sugar and 2 cups white wine Juice and zest from 1 lemon 13 star anise 12 cinnamon sticks 20 black peppercorns divided into 1 vanilla bean each 4 pear ripes, Sekel, Bosc, or Bartlett Instructions In a small sauce pan, combine all the ingredients (apart from the pears) and bring to a boil. When the pears are soft when pricked with a knife, add them and simmer for about 25 minutes. In the poaching liquid, the pears are cooled. Take out the cool pears. Return the liquid to the pan and cook it until it reduces to syrup. Cool. Pour over the cake and pears (see recipe above). Add whipped cream over top. Notes *White grape or apple juice can be used in place of the white wine.
We would especially like to thank LongHorn Steakhouse for sending in this lovely dessert recipe! Try their Mushroom Stuffing as well.
.