Originally published on December 14, 2017
Despite how much you might want to, are you too busy to even consider keeping up with routine home maintenance or adding small seasonal touches to your house? Are you putting off arranging or decluttering any space in your house because you feel too overwhelmed? Trust me, I understand, and I made this 2017 printable calendar to be of assistance to you!
If you're anything like me, having kids while working a full-time job keeps you more than busy enough. But I've now discovered that if I make a monthly plan of organizing, decoration, and maintenance jobs and actually finish the ones on the list every month, all the tasks look manageable (and occasionally pleasurable)! I couldn't have completed even half of this work if I had followed a schedule. However, it becomes manageable without seeming overwhelming when you divide down the required home upkeep, seasonal décor, and decluttering/organizing into small portions every month.
As a result, I have been working diligently to produce a 2017 printable calendar that goes above and beyond the norm by offering you month-by-month guidance on house upkeep, organization, and decluttering. That is correct! Even though your life is extremely busy, this 2017 printable calendar will help you stay organized and on target. It is also quite pretty.
FREE PRINTABLE 2017 CALENDAR To help you understand how my 2017 printable calendar is organized, here is a close-up look at one of the months:) You may either print them out and save them somewhere convenient, or you can put it in a frame each month.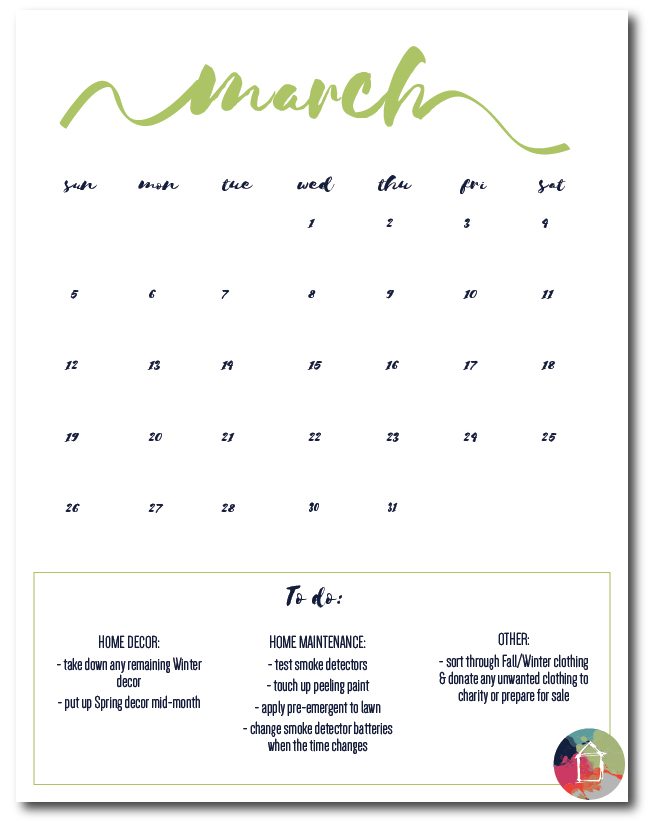 All of my email subscribers can download this 2017 calendar for FREE. All you have to do to receive this 12-page printable calendar in your mailbox is sign up for my email newsletter by clicking the button below, and the 2017 calendar will appear there in a matter of minutes. You will be able to download and print the 2017 printable calendar in your own house using the PDF format, or you can take them to Office Depot or Staples to get larger prints created. I won't spam you, so don't worry. Every week on Tuesdays, I send out a newsletter with plenty of do-it-yourself projects and design ideas that I believe you'll enjoy. However, you can unsubscribe at any moment. To subscribe right away, simply click the button below!

Go portfolio id: "printables"