Watermelon, basil, and tomatoes are just a few of the flavorful spring ingredients in this tasty and light meal. This chilled soup is simple to make and quick to eat outside with friends and family.
SOUP WITH CHILLED TOMATO, WATERMELON, AND BASIL Soup with chilled tomato, watermelon, and basil Soup recipe type Written by Foodieaholic Ingredients: 4 Servings 1 cup of canned plum tomatoes with little sodium 14 cup of tomato puree low in salt 1 cup of watermelon, chopped (seedless) 1/2 tsp. minced garlic freshly ground black pepper, 1/4 teaspoon 1 tablespoon of chiffonade basil and 1/2 teaspoon orange zest (cut into thin strips) Four fresh basil sprigs for the garnish Instructions In a blender, combine all the ingredients. Mix well. Chill. Add a fresh basil sprig to each bowl before serving. Notes * To make 12 teaspoon of orange peel shavings, grate or microplane the orange peel. The zest is represented by the shavings, which give food a powerful, delicious citrus flavor. Use only the colored portion of the peel; avoid the underneath, bitter white pith.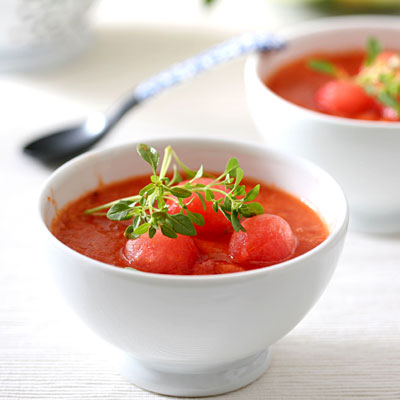 We received this dish from Pritikin Longevity Center that is both light and healthful. Check out their extremely excellent Grilled Pineapple as well.
.